Crawl Space Insulation Experts Near Lynchburg, Frederick, Bethesda
Prevent mold, moisture & comfort problems with the right insulation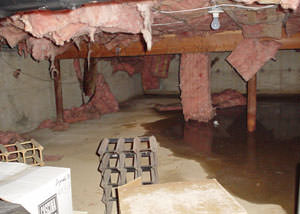 Fiberglass insulation in a crawl space tends to soak up moisture and humidity, growing mold and eventually causing it to "drip" off the ceiling.
Crawl space insulation is important. A number of comfort and energy problems are caused by inadequate or incorrect crawl space insulation.
Any crawl space can be wet and damp, so the insulation must hold up in those conditions. We recommend installing a vapor barrier along with proper insulation to prevent mold and moisture problems and keep your home comfortable year-round.
When you count on Fortress Foundation Solutions for your crawl space insulation needs, we will send out an expert technician to inspect your crawl space and recommend the right services. Contact us today for a free crawl space insulation quote! We serve Lynchburg, Frederick, Bethesda and many surrounding areas.
Our options for crawl space insulation
The crawl space insulation materials that we install are compatible with our crawl space encapsulation and drainage systems to ensure a dry, healthy, comfortable crawl space!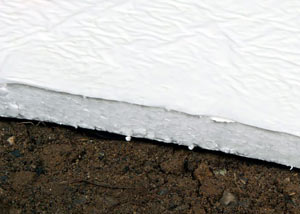 Tough enough. TerraBlock™ crawl space insulation is pliable enough to install over an uneven dirt floor. It's also durable and puncture-resistant, able to withstand foot traffic from workers and homeowners.

TerraBlock™ crawl space insulation was developed to meet the challenge of insulating rough, uneven crawl space floors. However, this innovative insulation is versatile enough to be used on foundation walls as well. The ¾-in.-thick sheet material is covered on both sides with a durable moisture barrier that makes the insulation resistant to puncture and abrasion damage.
When you install TerraBlock™, you get insulation and moisture protection from a single product. When installed over a crawl space floor, TerraBlock™ also provides a cushioned surface that service professionals and homeowners will appreciate when moving around in the crawl space.

Read More About TerraBlock™ »
TerraBlock™ Specifications
Padded, Insulated Design -- TerraBlock™ is made of ¾" of foam insulation. It's padded, puncture-resistant, and durable enough for access by servicemen and homeowners.
Installs On Walls & Floors-- TerraBlock™ is available in rolls and fan-fold sheets, providing installers with different installation options to suit varying crawl space conditions. TerraBlock™ is appropriate for crawl space walls and floors.
Compatible With Our CleanSpace® System -- TerraBlock™ can be used as a standalone product, or it can be combined with our CleanSpace® Vapor Barrier, CleanSpace® drainage matting, SmartPipe™ French Drains, and other products.
---
Foamax crawl space wall insulation & finishing panels
Panel power. Thanks to special features that other foam insulation panels lack, Foamax insulation provides excellent performance and value when used to insulate crawl space and basement walls.
Foamax crawl space wall insulation panels look different because they ARE different. Not only is Foamax highly moisture-resistant, but it offers substantial energy savings, which means your insulation will stand the test of time and ultimately pay for itself.
Advantages of Foamax wall panels:
Provides a high insulation value
Energy savings that pay for itself - great investment
Makes your crawl space much warmer
Brightens up your crawl space
Can be left exposed - doesn't need to be finished
Foamax Specifications
High Insulation Value -- Foamax is a reliable, lasting crawl space insulation. Not only will your crawl space be warmer and better protected against moisture, but with all of the energy savings, it will ultimately pay for itself.
Multi-Function Insulation -- Foamax is a polyisocyanurate foam insulation panel with a white foil finish on the front and foil vapor barrier on the back. The wall insulation panel offers multiple benefits and high-performance features, including moisture-resistance, a high insulating value, better crawl space comfort, and more.
---
Contact us for a free estimate!
Interested in installing insulation in your crawl space? We have the answers you need! Fortress Foundation Solutions services Arlington, Sterling, Silver Spring, Fredericksburg, Alexandria, Rockville, Roanoke and many nearby areas in Virginia & Maryland. Schedule a free estimate with us today!
Looking for a price? Get a no cost, no obligation free estimate.