Before You Finish Your Basement...
Protect your new investment from moisture damage in Virginia & Maryland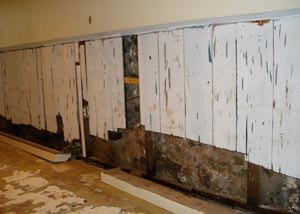 Flooding in a finished basement. Few things can destroy a newly finished basement like groundwater flooding or a plumbing failure.
Taking a few precautions before a flood occurs can prevent this issue and protect your home. This includes eliminating all existing and potential sources of flooding, and addressing any issues with humidity in the space.
If you have a one-story home with a full basement, then that basement represents a major portion of your home's usable space.
The best way to make use of this space is to finish the basement into a new, comfortable living space. But like all home improvements, a little preparation beforehand can go a long way to protecting your investment.
Our experts can dry your basement and get it ready to make the most of your remodeling investment. To schedule a free basement upgrade quote, contact us by phone or e-mail today! Our experts serve throughout the Virginia & Maryland area, including Bethesda, Lynchburg, Frederick and nearby.
Finishing the basement
An unfinished basement is a prime candidate for creating new living space in your home. Before any construction begins, it already comes with outer walls preconstructed, and many pipes and utility lines already in place.
Additionally, the earth around the basement makes it cooler than the outside air in the summer and warmer in the winter. Making this space comfortable requires insulation and a little extra work from your HVAC system.
The challenge of basement finishing
Homeowners who have a wet basement are often reluctant to invest in finishing, worrying that water damage will ruin their new space.
However, with a little preparation (including a warrantied basement waterproofing system), your basement can be permanently protected from any moisture damage to drywall, insulation, or property.
Steps to take before finishing
At Fortress Foundation Solutions, we've seen just about everything that can happen to a finished basement, and we've been called in to waterproof them daily. Once the basement is finished, repairing and waterproofing the space is much more expensive.
If you're planning to finish the basement, this is what we recommend to prepare it beforehand. If your basement is already finished, many of these precautions may still be made.
Repair your sump pump system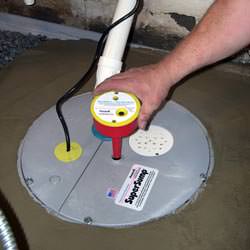 Performing proper repair and maintenance of a sump pump system ensures that you can discharge large volumes of water from your home in the case of heavy rains or a plumbing failure.
The best sump pumps are ready for anything -- including power outages and sump pump failure. This means that your system should include both a battery backup sump pump and a secondary sump system that can kick on if your primary pump fails.
At Fortress Foundation Solutions we properly repair and perform regular maintenance to ensure your sump pump is ready for anything!
Waterproof and insulate your basement walls
Before finishing a basement, improve the energy-efficiency of your home and avoid cold floors by insulating your basement. At Fortress Foundation Solutions we provide Basement To Beautiful™ panels that help you create a comfortable living space in your basement, help you save money and further optimize your home.
The Basement To Beautiful™ system provides substantial energy savings when compared to conventional foam products because it is designed with unique, advanced Foamax foam insulation. This insulation will provide a protective barrier for your basement that will be resistant to rot and mold growth.
Install a warm, dry floor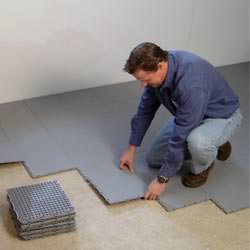 Like the basement walls, moisture can also make its way upward through a concrete floor.
If you're planning on installing anything on your floor that can be damaged by mold or moisture (carpeting, wood, chipboard, glue, etc.), then it's vital that you install a vapor barrier beneath it to protect your floor finishing.
Our ThermalDry® Sub Floor™ is the ideal choice. Along with providing a durable subfloor, it also lifts your flooring off the cold concrete for a warmer surface underfoot.
We also have many different options for finished basement flooring, including synthetic wood and tile designs in carpet and stone tiles.
Upgrade those basement windows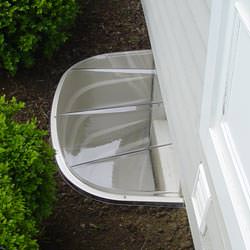 Your basement windows are vital to the beauty and appeal of a finished basement. If they're dingy, rusty, and providing a front-row view of a rusted window well, then they're not doing their job.
We recommend upgrading your basement windows to a model with energy-efficient glass and a vinyl frame.
While you're at it, protect the windows from rain, snow, and cold winter winds by installing covered basement window wells at each window location.
Along with keeping back the cold, the cover will also hold back dirt, leaves, and other debris that would otherwise fill the window well, grow weeds, and look ugly.
Install a ducted dehumidifier system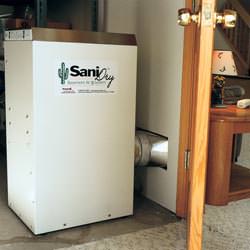 Keeping your basement dry is key to creating a healthier, more comfortable space in your home. Eliminating humidity will keep mold, mildew, and rot under control, and can even lower heating and cooling costs.
A good dehumidifier should run without the owner even knowing it's working. The best ones are self-draining and can be installed with ductwork. That way, they can dry air in your living space while being stored in a closet or utility area. Our SaniDry™ XP Dehumidifier can be operated via a digital control panel, similar to a home thermostat.
When possible, look for a dehumidifier that's ENERGY STAR® Rated to ensure maximum savings on your utility bills.
Let us help you prepare your basement for finishing!
We can dry your basement and prepare the walls, floors, windows, and home plumbing for a finishing system. Protecting your basement from moisture will ensure that your remodeling work stays valuable and looking great for many decades to come.
It costs you nothing to meet with us for a free basement quote! Our specialist can stop by to measure your basement, make recommendations, and answer any questions you may have. While we're there, we'll create a customized plan for your basement, including a written cost quote.
Our experts proudly provide free quotes to the Virginia & Maryland area, including Frederick, Bethesda, Lynchburg, Rockville, Roanoke, Silver Spring, Columbia, Gaithersburg, Ellicott City, Germantown, and nearby.
Looking for a price? Get a no cost, no obligation free estimate.